By Charlie Wacholz published 6 days ago
Meta developers haven't yet confirmed an estimated release window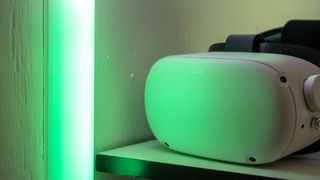 (Image credit: Nicholas Sutrich / Android Central)
What you need to know:
Oculus Air Link is Meta's wireless alternative to plugging a Quest into a PC to play VR games.
Windows 11 introduced a number of performance issues for Air Link, including frame rate drops.
A developer from Meta has promised that a fix is on the way.
Initially released in 2021, Oculus Air Link(opens in new tab) allows players to wirelessly connect their Quest headset to a gaming PC, making cordless PC VR a reality. It wasn't without its issues, especially since the service hinges entirely on the user's router speed, but Windows 11 has been causing a number of issues for Air Link users.
A VR indie studio by the name BattleAxeVR (@BattleAxeVR), Tweeted about the issues some of its team were facing, specifically citing frame rate and stuttering. John Carmack, a consulting CTO at Meta, responded, saying that there was a fix in the works, but didn't provide any specific details about when those fixes would come for the Quest 2(opens in new tab).
Some timing details changed in Win 11. We think we have a handle on it, and an update is in the pipeline, but I can't say exactly when it will land. Sorry it has taken so long.May 18, 2022
See more
Carmack didn't provide details about a specific release date or window, so it's tough to say when exactly players can see these stability improvements, but it's safe to assume that this is a priority for the development team, considering how serious these issues are.Sponsored LinksTop Courses For Your CV – Learn MoreTop Courses | Sponsored Links
Accessing the broad catalog of PC-exclusive VR games through Steam and Oculus without using a single cord feels incredibly liberating. Air Link stability's only becoming more important now that Meta's no longer selling its other wired headsets like the Rift S anymore. Air Link is now one of the only ways new players can get access to both Quest-exclusive games and PC-exclusive VR games.RECOMMENDED VIDEOS FOR YOU…
If you've recently upgraded to Windows 11 and want to play games like Star Wars Squadrons or Half-Life: Alyx using your Quest 2, but don't want to deal with Air Link's stability issues, you'll need a solid Quest 2 Link Cable replacement(opens in new tab) or can also purchase Virtual Desktop, an Air Link alternative, to keep things wireless.
---
Meta Quest 2
The Meta Quest 2 is the best and most affordable way to get into VR.US$269at Amazon€299at Adorama WW€435at Conrad Electronic
Freelance Writer
Charlie's a freelance contributor at Android Central from Milwaukee, WI.MORE ABOUT…Memorial Day TV sales live roundup: Save hundreds on Samsung, LG, Sony and moreThe Dell Memorial Day sale is still live: save hundreds on laptops and monitorsLATESTMeta Oculus Quest 2 price just dropped by $149. Wait…what?