By Nick Ransbottom published 4 days ago
Motion sickness doesn't have to ruin your VR experience.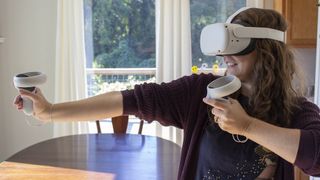 (Image credit: Nick Sutrich / Android Central)Jump to:
Putting on a VR headset and stepping into a virtual world for the first time is a special experience. Unfortunately, it can also be a nauseating one. It's very common for VR newcomers to get sick mere minutes after launching a game. Your skin can get clammy, you might feel queasy, and you may even feel a strong sense of dizziness. It doesn't make for the most relaxing or fun time.
While there are many factors as to why VR motion sickness occurs, one thing that makes it worse is playing a game that's designed for those with more VR experience. If you put on your headset and immediately launch a game like Resident Evil 4, you're probably going to have a bad reaction. Luckily, there are plenty of games that are very friendly for VR newcomers. If you're struggling with getting your VR legs, our list of the best Quest 2 games for VR first-timers to avoid motion sickness will help you get the most out of your Quest 2 while acclimating to virtual reality.
PUZZLING PLACES
Puzzling Places is one of the most relaxing experiences available on the Quest 2. It's a collection of jigsaw puzzles with customizable levels of complexity, letting you choose the number of pieces for each puzzle from 25, 50, 100, 200, or a whopping 400. What makes Puzzling Places so special is that the jigsaw puzzles are in 3D, and rather than just placing pieces in front of you, you'll have to rotate the puzzle at every angle to figure out where they fit. It can be played completely seated and requires no movement, making it a perfect fit for VR beginners and anyone with motion sickness.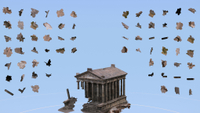 Puzzling Places
A collection of 3D jigsaw puzzles, Puzzling Places has you thinking spatially to fit dioramas that range in customizable complexity all from the comfort of a seated position. The base game has 16 puzzles, and additional packs can be purchased separately.
Buy at: Oculus
PAINTING VR
There are quite a few art games and apps for the Quest 2, but Painting VR is the best for VR newcomers. It plops you into a huge virtual art studio and gives you a canvas with customizable dimensions, along with a vast array of painting tools ranging from teeny brushes to cans of spray paint. Painting VR also gives you an in-game browser that you can use to paint along with YouTube tutorial videos in real-time and lets you upload your own reference images.RECOMMENDED VIDEOS FOR YOU…CLOSEhttps://imasdk.googleapis.com/js/core/bridge3.517.2_en.html#goog_9324942370 seconds of 2 minutes, 53 secondsVolume 0%Loading ad PLAY SOUND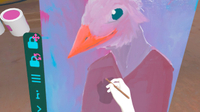 Painting VR
A perfect pick for those with a creative side, Painting VR gives you the fun of a large virtual environment while keeping you stationary. The teleport options ensure comfort as you move around your personal art studio, and the huge variety of painting tools will let you channel your inner Picasso.
Buy at: Oculus
TETRIS EFFECT: CONNECTED
It's genuinely hard to put the experience of playing Tetris Effect: Connected into words. On the surface, it's just the classic gameplay of Tetris in VR. It's not until you play yourself that you realize how the trippy 3D visuals, emotional background music, and meditative gameplay harmonize with each other to create something magical. Tetris Effect: Connected requires no movement and instead lets you push or pull away from the Tetris board to get as close to the action as you want. It also features a unique multiplayer mode with full cross-play support, so you can play with friends regardless of the platform.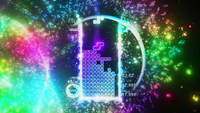 Tetris Effect: Connected
An immersively trippy take on the classic gameplay of the series, Tetris Effect: Connected elevates the beloved Tetris formula to new heights. It's the type of experience that perfectly showcases the magic of VR and doesn't require any form of movement, making it a must for motion-sick VR beginners.