By Chris Wedel , Michael L Hicks published 16 days ago
Google's long-anticipated smartwatch will arrive alongside the Pixel 7. Is it worth waiting for?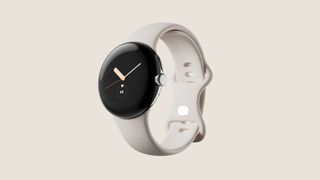 (Image credit: Google)Jump to:
From the beginning of Google's wearable strategy, it has always relied on other OEMs to carry the hardware torch for its software. However, since Wear OS 3 arrived last year, the calls for an official Google Pixel Watch have only grown in number.
Finally, after years of supposed leaks, delays, and cancellations, Google unveiled the Pixel Watch at Google I/O 2022 on May 11, giving us an official look at the watch that a Google engineer left at a restaurant earlier this year. While the Pixel Watch won't arrive until later this year, we know plenty about it from both Google and leaked information.
Without any further buildup, let's explore everything we know about the Google Pixel Watch, how it will compare to the best Android smartwatches available now, and what exclusive features it will offer.Sponsored LinksApartments in Dubai Might Be Cheaper Than You ThinkApartments for Sale in Dubai | Search Ads
PIXEL WATCH RELEASE DATE
Announced at Google I/O 2022, the Google Pixel Watch will ship alongside the Pixel 7 and Pixel 7 Pro "this fall."RECOMMENDED VIDEOS FOR YOU…CLOSEhttps://imasdk.googleapis.com/js/core/bridge3.517.2_en.html#goog_16867193830 seconds of 12 minutes, 15 secondsVolume 0% PLAY SOUND
While Google didn't provide an official release date, both the Pixel 5 and Pixel 6 shipped the last Thursday of October: 10/29 and 10/28, respectively. So it's fair to speculate that the Pixel Watch and Pixel 7 will ship on Thursday, 10/27 this year, or else some date close to that.
We were originally supposed to see the Pixel Watch last October before Google allegedly delayed it. It's almost fitting that the watch will arrive exactly one year later.
PIXEL WATCH: PRICE AND MODELS
Unlike the Pixel Watch release date, we haven't heard anything official from Google about the price, nor has the price leaked. So we can only speculate, as it's likely Google itself hasn't determined a final Pixel Watch price yet.
Google will want it to be competitive against the Galaxy Watch 4 series and Apple Watch Series 7, which would mean a price somewhere in the $250 to $400 range, with Apple's watches on the higher side. It could theoretically go even lower, but Google already has Fitbit to target the $200-and-under crowd. And given Google's commitment to making the Pixel brand affordable, it's not likely to trend any higher.
We do know Google will sell a 4G LTE model, which will likely cost $50 to $100 more based on how other brands price the feature. Otherwise, the Pixel Watch will only come in one case size, unlike the Galaxy Watch 4.
Because the Pixel Watch will support Fitbit integration, you may end up wanting to pay for a Fitbit Premium subscription, which would add an additional $10/month or $80/year on top of the watch's cost. Most Fitbit watches do offer 3-12 months of free premium, so we wonder if Google will bundle that in as well.
PIXEL WATCH: DESIGN
The Google Pixel Watch sports a flat, edge-to-edge design that evokes the 2015 Moto 360. It has a rotating crown on the right-center of the case, with buttons on the underside of the casing. This look helps to give the watch an even cleaner look and still maintain functionality.
In terms of color options, we've seen Google show off models with black, gray, and gold casing with black, gray, and lime green bands. We don't yet know if it uses steel or aluminum. We do suspect the watch will use proprietary bands, meaning you won't be able to swap in whatever bands you've collected from your previous smartwatches.
Aside from Google's official renders, Android Central recently acquired exclusive pictures of the upcoming wearable thanks to an engineering sample being left at a restaurant in the U.S. Based on Google I/O, we now know this sample to be fairly accurate to the final product, and so we've included those photos below, along with other photos he subsequently posted on Reddit.Image 1 of 16
(Image credit: u/tagtech414 on Reddit)
(Image credit: Android Central)
(Image credit: Android Central)
(Image credit: Reddit)
(Image credit: Android Central)
(Image credit: Android Central)
(Image credit: Android Central)
(Image credit: Android Central)
(Image credit: Android Central)
(Image credit: Android Central)
(Image credit: Android Central)
(Image credit: Android Central)
(Image credit: Android Central)
(Image credit: Android Central)
(Image credit: Android Central)
The person who found the abandoned Pixel Watch explained it will use 20mm bands. He says the protruding crown doesn't hit the back of the wearer's hand when bending their wrist, and that it's more comfortable than the Galaxy Watch 4 despite its rather thick appearance. He did describe the bezels as "pretty substantial," which many will see as a negative.