By Michael L Hicks published 8 days ago
If Google combines the best of Wear OS with the best of Fitbit, this could be a fitness smartwatch for the ages.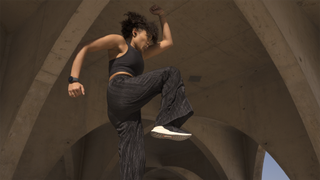 (Image credit: Google)
When Rick Osterloh announced the Google Pixel Watch at I/O 2022, he said his "favorite thing about the watch is the deep integration with Fitbit." He mentioned a few basic features — continuous heart rate, sleep tracking, Active Zone Minutes, and goal tracking through the Fitbit app — but didn't provide too many other details.
As a runner, I agree with Osterloh! A Pixel Watch that combines the best of Fitbit OS and Wear OS could really offer something exciting for Android-using athletes. Even though I'm disappointed by its last-gen hardware, it'll still offer far better app support and a cleaner UI than a typical Fitbit or Garmin.
Most fitness watches compromise on specs and features to prioritize price and battery life. They last forever but do little outside of workouts except buzz your wrist with notifications. On the flipside, mainstream smartwatches have simple health apps — Google Fit, Apple Health, or Samsung Health — but without the training tools and metrics that you get with most fitness trackers.Sponsored LinksThe Cost of Apartments for Sale in Dubai Might Totally Surprise YouApartments for Sale in Dubai | Search Ads
While the Pixel Watch will likely need daily charges, it should offer an uncompromised Wear OS experience and better fitness metrics that'll make me want to keep wearing it post-workout. But my interest will depend greatly on how well Fitbit actually integrates into the watch. Are we getting the full experience or just a superficial, mainstream version of it?RECOMMENDED VIDEOS FOR YOU…CLOSEhttps://imasdk.googleapis.com/js/core/bridge3.517.2_en.html#goog_12127088480 seconds of 12 minutes, 15 secondsVolume 0% PLAY SOUND
With that question in mind, these are the Pixel Watch Fitbit features it needs to fulfill its destiny as a proper fitness smartwatch.
All the health sensors it can fit
The Pixel Watch has two obvious competitors in the Samsung Galaxy Watch 4 and the Apple Watch Series 7, both of which prioritize health tracking. But if the Pixel Watch gets the same sensors as the top Fitbits, it'll absolutely hold its own.
Apple offers continuous HRM with AFib detection, an electrocardiogram (ECG), sleep tracking with blood oxygen monitoring (SpO2), and fall detection. Samsung also offers HRM, SpO2, and ECG, along with Bioelectric Impedance Analysis and blood pressure (in some countries).
Inside of the Fitbit Sense, however, you'll find HRM, SpO2, and ECG, plus an electrodermal activity (EDA) sensor for stress tracking and a temperature sensor that helps with tracking sleep quality, menstrual tracking, and possible illness.
Not all Fitbits include those latter sensors, but even the more affordable Fitbit Charge 5 has everything except the temperature sensor. I find it perfectly feasible that the Pixel Watch could include them without ballooning the cost of the watch. It'll simply depend on whether Google has trouble squeezing them in alongside the upgraded hardware and memory.
Plenty of fitness trackers make do with just heart rate and Pulse Ox. But Fitbit needs to do better to justify its monthly subscription, and that means a holistic look and your body's health, sleep, and stress to help athletes determine how hard they should push themselves