By Namerah Saud Fatmi published 4 days ago
Are your photos missing that extra oomph? Try using the Portrait Blur feature in Google Photos.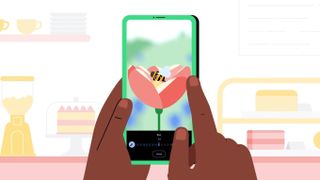 (Image credit: Google)
Google Photos is already a very excellent photo editing tool, but the March 2022 update made it even better. Pixel device owners and Google One subscribers can use Portrait Blur to add the portrait mode look to old pictures on their Android phones. That's right, even if you're dealing with a snapshot captured ages ago, your trusty Android device can edit it using this new feature in Google Photos.
Portrait Blur allows you to blur the background to whatever extent you like and maintain the focus on the subject. Here's how you can use this really neat portrait blur trick in Google Photos on your Android phone.
How to use Google Photos portrait blur on Android
1. Open Google Photos on your phone.Sponsored LinksDo You Speak English? You can work remotely from Pakistan for a USA employerUSA Job from Home | Search AdsClick Here
2. Pick and tap on a portrait image.RECOMMENDED VIDEOS FOR YOU…CLOSEhttps://imasdk.googleapis.com/js/core/bridge3.517.2_en.html#goog_11641993548 seconds of 2 minutes, 53 secondsVolume 0% PLAY SOUND
3. Tap Edit from the bottom menu.
4. Choose the Portrait option.
5. Press the Save copy button to save your newly edited image.
These instructions add a simple blur effect on your portrait image. However, for a more controlled effect, don't choose the Portrait option from the Edit menu right away. Instead, follow the next set of steps.
1. Open the Google Photos app.
2. Select a portrait image and tap it.
3. Tap Edit from the bottom menu.
4. Swipe left on the bottom menu until you reach Tools.
5. Tap Portrait Light to adjust the lighting.
6. Select Done when you've adjusted the Portrait Light.
7. Tap Blur to alter the level of background blur.
8. Press Done when you're happy with the Blur effect.
9. Tap Save copy to save your edited image.
Harness Google's true photo-processing capabilities
There are numerous little tips and tricks buried within Google Photos. Picking them up will make you a master at editing images with the most basic tools in hand: your smartphone and Google's free image management tool. Mediocre snaps will yield stunning results once you've honed your Google Photos editing skills.
While all the best Android phones have outstanding cameras, devices made by Google now stand in a league of their own when it comes to computational photography. The Pixel 6 and 6 Pro may come equipped with large 50MP sensors, but their actual secret ingredient is Google's legendary image processing.
Now, if you want a hint of that Tensor-powered image software goodness in your non-Pixel or older Pixel, you only need to turn to Google Photos. Tools like Portrait Blur are the backbone of what makes this platform from Google so great. Unfortunately, non-Pixel devices need to be on the Google One paid plan to access some of the more epic features of Photos. If you feel like the features are worth the dough, you can get on the One plan for a pocketful of change each month.
Contributing Writer
Namerah Saud Fatmi is a freelance writer for Android Central. She has a passion for all things tech & gaming and has been an honorary Goodreads librarian since 2011. When she isn't writing, she can be found chasing stray cats and dogs in the streets of Dhaka or slaying dragons in the land of Skyrim. You can reach her on Twitter @NamerahS.MORE ABOUT…How to send files from your phone to your Chromebook using Nearby ShareHow to use Google Assistant with Galaxy Watch 4LATESTFiio K5 Pro review: A classic DAC/amp turbocharged with ESS internalsSEE MORE LATESTTOPICSGOOGLE PHOTOSANDROIDGoogle unveils big Android updates for Photos, Gboard, live transcription, and moreGoogle announced a bevy of Android updates that introduce new capabilities in Google Photos, Gboard, Assistant, Nearby Share, Google TV, and more.AndroidcentralDo You Speak English? You can work remotely from Pakistan for a USA employerNote: The salary of remote workers is usually paid in US Dollars every weekUSA Job from Home | Search Ads|SponsoredClick HereStudying in Germany Might Be More Fun than You ThinkStudy In Germany | Search Ads|SponsoredOnline Jobs Might Pay More Than You ThinkWork from Home | Search Ads|SponsoredWorking in the USA Might be Easier Than You ThinkUSA job from home | Search|SponsoredGoogle is giving away a free Titan Security Key to select Google One subscribersIf you're a Google One Premium subscriber, you can get a Titan Security Key for free. This is the best way to add two-factor authentication to your Google account, even if it is a bit less convenient.AndroidcentralWhy Are Dubai Villas So Cheap? (Take A Look)Luxury Villas in Dubai|SponsoredSamsung's four-year-old Galaxy S9 is getting the March 2022 Android security patchThe March 2022 Android security patch is now rolling out to Samsung's Galaxy S9 and S9+ series phones.AndroidcentralThe Cost Of Hair Transplants In Punjab Might Surprise YouOnline Jobs | Search Ads|SponsoredThis 4-year-old Samsung Galaxy phone still gets monthly Android security updatesAndroidcentralGoogle is throwing Android tablets a bone with upcoming Play Store updatesAndroidcentralLooking to Upgrade Your Career? A Data Science Degree Might Just Be What You NeedData Science Masters Program | Search ads|SponsoredNew smartphones aren't convincing many users to give up their older devicesIn our latest poll, we asked our readers how old their current smartphones are. Many still use devices released more than three years ago.AndroidcentralWorking in the USA for Pakistan residents (English knowledge might be required)USA Jobs | Search Ads|SponsoredPOCO X4 Pro 5G is official with a 108MP camera, 67W 'turbo' chargingPOCO has unveiled two "new" phones at its MWC 2022 launch event. While the POCO X4 Pro 5G is a rebranded version of the Redmi Note 11 Pro 5G, the M4 Pro is based on the Redmi Note 11S.AndroidcentralGetting a Masters Degree in United Kingdom May be More Rewarding Than You ThinkMasters Degree in United Kingdom | Search Ads|SponsoredSamsung and Apple have proven that Wear OS's apps aren't the only thing holding the platform backSamsung had apps when it used Tizen for its wearable OS and it wasn't enough. Apple Watch has apps and it flourishes. These two things lead me to belive the issue with Wear OS adoption is deeper than a fresh coat of paint.AndroidcentralDo You Speak English? You Might Quality for an Online Psychology Degree from Florida Online Psychology Degree Florida | Search Ads|SponsoredHow to access Google Recorder from the Android Quick Settings menuThe Google Recorder app is already pretty handy, but its latest update makes it even easier to access.AndroidcentralLocated in Pakistan? You Might Qualify for a Work From HomeWork from Home | Search Ad|SponsoredThe Galaxy Watch 4 gets new Samsung Health improvements in a new updateSamsung has released an update for the Galaxy Watch 4 that improves Samsung Health functionality and includes the March 2022 security patch.AndroidcentralAre You From Canal Rest Hosue? Toronto Homes for Sale Can Be Cheaper Than You ThinkToronto Homes For Sale | Search Ads|SponsoredAndroid TV: What is it, and should you buy a TV or a box with it?We all know that Android powers phones and tablets, but did you know it's also an operating system for TVs? Here's everything you need to know about Android TV!AndroidcentralDo You Speak English? Work a USA Job From HomeWork a USA Job | Search|SponsoredBest Android phones under $300 in 2022Sometimes, you just want a phone that does the job and doesn't cost too much. These days, it's easy to get that, and more, with an awesome Android phone on a tight budget.AndroidcentralSamsung's digital car key can now unlock certain Kia, BMW and Genesis modelsSamsung has expanded support for its digital car key feature, which was first introduced in South Korea last year, to select Kia, BMW, and Genesis vehicles.Androidcentral
MOST POPULARHow to stream movies and TV on the (Oculus) Meta Quest 2
By Danny Gallagher4 days agoWhat is Google Play Protect?
By Jerry Hildenbrand4 days agoHow to change the home menu environment on the Meta Quest
By Charlie Wacholz5 days agoHow to use a PS4 controller on Android
By Samuel Tolbert5 days agoHow to change NAT type on PS4 with port forwarding
By Jennifer Locke5 days agoHow to switch from Microsoft Edge to Google Chrome on Windows 11 PCs
By Samuel Contreras6 days agoHow to join your friends in Apex Legends Mobile
By Samuel Tolbert7 days agoCan my phone play Apex Legends Mobile?
By Jennifer Locke8 days agoHow to voice chat in Apex Legends Mobile on Android
By Jennifer Locke8 days agoHow to set up and use the Google Translate widget
By Namerah Saud Fatmi8 days agoANDROID CENTRAL NEWSLETTER
Get the best of Android Central in in your inbox, every day!Contact me with news and offers from other Future brandsReceive email from us on behalf of our trusted partners or sponsorsBy submitting your information you agree to the Terms & Conditions and Privacy Policy and are aged 16 or over.MOST READ