By Andrew Myrick Contributions from Namerah Saud Fatmi , Keegan Prosser published 14 days ago
It's time to upgrade the sound system in your home.
Included in this guide:1
SonosVIEW2
SonosArcCHECK PRICE3
CreativeVIEW4
RokuStreambar ProCHECK PRICE5
AnkerNebula SoundbarCHECK PRICE6
BoseSmart Soundbar 900CHECK PRICE7
YamahaVIEW8
PolkMagniFi Mini AXCHECK PRICE9
JBLVIEW10
SamsungVIEW11
VIZIOVIEW12
TCLVIEW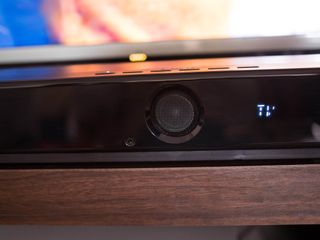 (Image credit: Harish Jonnalagadda / Android Central)
Soundbars have come a long way in the last few years, offering excellent sound while taking up less space and costing far less. Our criteria for the best soundbars start with: bars that won't bankrupt you, come with the best streaming devices or smart assistants built-in, and create powerful sound without relying on subwoofers or rear speakers. The Sonos Beam will astonish you with its massive sound in a small, reasonably-priced package, but we have plenty of other great options to consider below.
Sonos Beam Smart TV Sound Bar (Gen 2)
All of the smarts
REASONS TO BUY
+Amazon Alexa and Google Assistant built-in+Integration with other Sonos speakers+Lightweight+Great sound
REASONS TO AVOID
-No subwoofer included-Optical cable needed if HDMI-ARC not available-Voice commands won't work with optical cable
With the Sonos Beam (Gen 2), you get the best soundbar with basic smarts. The Sonos Beam (Gen 2) connects to your TV with HDMI-ARC or with the included HDMI-to-Optical adapter. A recent update has brought the ability to integrate Sonos products and Google Assistant. You can control your TV with your voice if your TV supports HDMI-CEC, which most modern sets do. Controlling your TV with your voice isn't a replacement for a remote, but it's an excellent option.
Sonos' ecosystem is attractive because it's easy to add more speakers to create a surround system. And as for connections, you'll get a single HDMI port, a single Ethernet port, and the standard AC power input. So you can start with the Sonos Beam (Gen 2) and have a great soundbar. Then, a few months later, you can pick up a couple of Sonos One speakers to add more channels. Or, you can buy a Sonos 5.1 kit with everything you need and create one of the best soundbar systems you can find.
However, if you want to experience better "lows" in your movies and video games, you'll want to pick up a subwoofer after the fact. This adds more of a punch to intense scenes and helps to immerse you in whatever you're watching or playing. Until then, the Beam creates a wide soundstage with an effective low-end sound all on its own, as we discovered during our Sonos Beam review.RECOMMENDED VIDEOS FOR YOU…CLOSEhttps://imasdk.googleapis.com/js/core/bridge3.516.0_en.html#goog_3677152040 seconds of 12 minutes, 15 secondsVolume 0% PLAY SOUND
Great sound with the smarts to bootTODAY'S BEST DEALS
VIEW AT AMAZONView at Sonos EuropeView at Conrad ElectronicSee all prices (5 found)
REASONS TO BUY
+Wall mountable+Integrates with other Sonos speakers+Only two cables to hook-up+Works with Google Assistant, Alexa, and Apple Airplay 2+Dolby Atmos-compatible
REASONS TO AVOID
-May be too large for TVs under 49 inches-Expensive-Subwoofer not includedAdvertisement
The best Sonos speakers were limited to portable Bluetooth speakers paired to your phone; now, you can get them all over the house. Sonos has become a household name for TV audio after diving into the soundbar industry, with the Sonos Arc coming in as its flagship model. It offers the homeowner eight woofers, three tweeters, and a total of 11 amplifiers for incredible, immersive sound. This is paired with a far-field microphone to work alongside your voice assistant of choice.
The Arc requires only two cables to plug in before being ready to experience this soundbar's greatness, which is incredible if you don't want a complicated setup. As for connections, the Playbar offers one Ethernet port, an HDMI ARC port (with included cable), and an Optical Audio port. Plus, as part of the Sonos family, you can connect the Arc to other Sonos speakers for a surround-sound experience.
It's a fantastic option, and we had almost nothing but praise for it in our Sonos Arc review — mainly whenever it plays Dolby Atmos content, which sounds particularly incredible from a soundbar without rear speakers. But the Arc isn't without a couple of downfalls that may have you looking elsewhere. First is the size and weight: it measures more than 13 pounds and is 45 inches wide, so you'll need to have plenty of space and heavy-duty wall anchors. The other pitfall is that there is no subwoofer included, so you may not get as much "punch" during your movies as you might want.
Great sound with the smarts to boot
REASONS TO BUY
+Better than expected sound+Wireless sub has impressive bass+Easy to set up and use+HDMI 2.1 connectivity+Six different modes for movies, TV shows, and music+Dolby Atmos integration
REASONS TO AVOID
-No Chromecast integration-Cannot add rear surrounds-Limited EQ customizationAdvertisement
If you're looking for a powerful soundbar that's comparable to the Sonos Arc in both output and price, the new Creative SXFI Carrier soundbar is a great alternative. Creative worked directly with Dolby Atmos on its latest soundbar, which has already proved to be an excellent option for users who want Dolby Atmos sound in an integrated package and need a high-end soundbar with a wireless sub.
While the SXFI Carrier soundbar doesn't offer Wi-Fi connectivity, it does include two HDMI inputs, an HDMI output with eARC, and all the benefits of HDMI 2.1—including variable refresh, ALLM, 4K at 120fps, and HDR10+ as well as Dolby Vision. You also get optical, 3.5 in, USB-C, and Bluetooth 5.0.
The SXFI Carrier also boasts a relatively compact design, measuring 880 x 128 x 76mm and weighing roughly 8lbs. (3.6kg). Other impressive specs include the wireless subwoofer, which features a 10-inch driver for next-level bass and sub-bass detail, seven driver units, and Creative's unique SXFI virtualization technology.
Roku Streambar Pro
The true all-in-one soundbarTODAY'S BEST DEALS
REASONS TO BUY
+Built-in 4K HDR streaming+HDMI ARC support+Compatible with Alexa, Google Assistant, and Siri+Can be expanded with subwoofer and wireless speakers+Dolby Audio
REASONS TO AVOID
-No wireless subwoofer included-Ethernet adapter sold separatelyAdvertisement
A few different streaming box options are available now, including the Chromecast with Google TV, our favorite of all the best Android TV boxes. Whether you prefer Chromecasts, Fire Sticks, or Rokus, however, you'll end up using two HDMI ports for your streaming box and soundbar — one too many if you have a lot of gaming consoles, cable boxes, or Blu-Ray players to connect as well.
If this is you, the Roku Streambar Pro is the all-in-one soundbar solution you've been looking for. Connect it to an HDMI ARC-compatible port on your 4K TV, and you'll be able to enjoy 4K HDR content and upgraded audio thanks to its four 2.5-inch full-range drivers plus the streaming capabilities of a Roku Streaming Stick+. It's compact enough to easily slide under any TV, with side-firing drivers to fill a room with decent sound. You can also invest in a subwoofer and wireless speakers to upgrade to true surround sound.
And when it comes to smart home compatibility, the Streambar Pro checks off all of the boxes. It's compatible with Google Assistant, Amazon Alexa, and even Apple's Siri with AirPlay 2 support. With this in tow, you'll be able to control Roku's impressive soundbar with the best Android phones, regardless of your smart home ecosystem.
Anker Nebula Soundbar – Fire TV Edition
Built-in Fire TVTODAY'S BEST DEALS
REASONS TO BUY
+Built-in Fire TV 4K+Voice Remote with Alexa included+Built-in subwoofer+Various sound modes to choose from
REASONS TO AVOID
-No Dolby Atmos support-Only one HDMI port-Does not feature Wi-Fi connectivityAdvertisement
If it hasn't been obvious over the past few years, one of the best streaming devices has been the Amazon Fire TV Stick 4K. But what if we told you that you could get one built right into your new soundbar? That's what you'll get with the Nebula Soundbar. Anker is mainly known for incredible charging accessories, but the company has been spreading out into other areas such as smart projectors and soundbars, including the Nebula.
This soundbar has a built-in subwoofer so you won't have to worry about trying to route any extra cables, nor will you need to worry about paying extra for some improved bass. But the best part is that it doubles as a Fire TV 4K streaming device. Included in the package is a Nebula-branded Fire TV remote, complete with shortcuts to your favorite streaming services.
However, you won't get everything with the Nebula Soundbar. For example, it does not support Dolby Atmos. With more and more soundbars including this feature, it's a bit disappointing to see Anker miss the mark here. Another potential frustration is the inclusion of only a single HDMI port on the backside. This may not be a huge deal for some, but if you're planning on using this with your PS5, you'll end up a bit disappointed.
Bose Smart Soundbar 900
Perfect soundbar for most peopleTODAY'S BEST DEALS
VIEW AT AMAZONView at BoseView at Adorama WWSee all prices (29 found)
REASONS TO BUY
+Can be paired with Bose wireless speakers and subwoofers+Built-in support for Assistant and Alexa+Bluetooth connectivity enables music streaming+HDMI eARC support
REASONS TO AVOID
-No subwoofer included-Might be too large for some TVsAdvertisement
Bose has been in the sound game for a long time, but its home theater audio options used to be priced out of many potential owners' budgets. Those times have changed, and the Bose Smart Soundbar 900 system couldn't be better evidence of that. This 2.29-by-41.14-by-4.21-inch soundbar is priced and designed to compete directly with the Sonos Beam but has the premium Bose features we're used to from its more expensive models.
On its own merits, the Bose Smart Soundbar 900 has four full-range drivers and a central tweeter for compact, distortion-free sound. It also has a mic for built-in Alexa or Google Assistant, which you can use to control your TV or cable box or answer phone calls. Plus, it has several connectivity options: Wi-Fi, Bluetooth, Apple AirPlay 2, Spotify Connect, and Bose SimpleSync to the best Bose headphones.
For dedicated Bose fans, you can pair your 900 to other Bose Bluetooth speakers or buy a Bose Bass Module or Surround Speakers to build a total home theater system. These can add up in price, but we appreciate that the Smart Soundbar 900 mainly stands on its own as an audio experience until you can afford to augment it with new audio tech.