By Andrew Martonik , Kennedy Maring last updated March 01, 2022
Included in this guide:1
SamsungGalaxy Tab S6CHECK PRICE2
SamsungGalaxy Tab S5eCHECK PRICE3
AmazonFire HD 8CHECK PRICE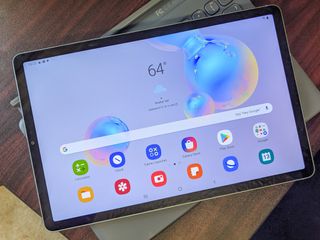 Samsung Galaxy Tab S6 hero (Image credit: Jerry Hildenbrand / Android Central)Jump to:
There aren't a ton of great Android tablets out there, but the Samsung Galaxy Tab S6 offers the best overall Android tablet experience of the bunch. It has a big screen, high-end specs, tons of features, a stylus, and support for a full keyboard. It's expensive, and not the right pick for anyone who wants a smaller and more portable tablet, but as an all-around device, it can't be beaten. For those who have different needs (or budgets), there are a few other picks that work well as media consumption devices and won't break the bank.
BEST OVERALL — SAMSUNG GALAXY TAB S6
Samsung Galaxy Tab S6
The best all-around Android tablet for most peopleTODAY'S BEST DEALSUS$620.02VIEW AT AMAZONUS$698.98View at AmazonUS$1,191.40View at Amazon
REASONS TO BUY
+Best screen available on an Android tablet+S Pen stylus included in the box+Robust and beautiful hardware+Long battery life+First-party detachable keyboard support+High-quality quad speakers
REASONS TO AVOID
-Expensive if you're only a casual tablet user-Not suited for portrait or handheld use for long
The most important things to have in a full-size Android tablet are a great screen, loud speakers, robust build quality, and software that makes use of the extra screen size. That's what makes the Samsung Galaxy Tab S6 the best Android tablet — it has a combination of everything.
Its spec sheet leaves little to be desired, with a super-fast Snapdragon 855 processor, 6GB of RAM, plenty of storage and well-optimized software. And because it's a Samsung product, you're getting a best-in-class display — coming in at 10.5 inches — and a fantastic metal build. You also now get an in-display fingerprint sensor, which was missing on prior models.Sponsored LinksApartments in Dubai Might Be Cheaper Than You ThinkApartments for Sale in Dubai | Search Ads
Beyond the specs, you get extras like great quad speakers, a microSD card slot and a stylus included in the box that attaches to the back of the tablet when not in use. And despite being thin and light, it gets great battery life. You can add a tremendous first-party keyboard cover to get some work done, and then jump into the DeX desktop-style interface for a more laptop-like experience.RECOMMENDED VIDEOS FOR YOU…CLOSEhttps://imasdk.googleapis.com/js/core/bridge3.516.0_en.html#goog_7209645460 seconds of 59 secondsVolume 0% PLAY SOUND
If you want a do-everything Android tablet and you're willing to spend the money, there's nowhere else to go but the Galaxy Tab S6.
PRODUCTIVITY FOR LESS — SAMSUNG GALAXY TAB S5E
Samsung Galaxy Tab S5e
Get a high-quality tablet with productivity features for less.TODAY'S BEST DEALSUS$449.99VIEW AT AMAZONUS$530View at AmazonUS$799.99View at Amazon
REASONS TO BUY
+Super light for its size+Large high-quality screen+Quad speakers+Optional hardware keyboard cover+Productivity features including DeX Desktop
REASONS TO AVOID
-Not as powerful as Galaxy Tab S6-No stylus supportAdvertisement
The Galaxy Tab S6's capabilities — and price — are a bit overkill for most people. That's why Samsung makes the Galaxy Tab S5e. It's built on the same tenets as the Tab S6, but takes strategic cuts back to be more affordable — and that makes it extremely enticing.
You get the same 10.5-inch AMOLED display, which is a huge plus, as well as 4GB of RAM, 64GB of storage and high-quality quad speakers. The battery is a little smaller, and the Snapdragon 670 processor isn't going to blow you away with performance, but those are fine trade-offs for a solid price drop.
The entire body is a sleek metal rather than glass. It may not feel quite as high-end but helps the Tab S5e be extremely light for its size at just 399 g (0.88 lb). That makes it great for media consumption and handheld use in ways the Tab S6 isn't. But you can still attach a hardware keyboard and jump into DeX desktop mode to get some serious work done just as well.
CHEAP AS IT GETS — AMAZON FIRE HD 8
Amazon Fire HD 8
Solid, budget-friendly tablet that gets the job doneTODAY'S BEST DEALSCHECK AMAZON£80 at Amazon
REASONS TO BUY
+Small enough for kids to use+Fun colour choices+Gets all of the basics done+Almost unbelievable price
REASONS TO AVOID
-Low-quality screen-Cheap-feeling plastic build-No access to Google Play appsAdvertisement
Amazon also makes the best super-inexpensive Android tablet available, the Fire HD 8. At this price and with 16GB of storage, it's a fantastic deal. The smaller size makes it easy to toss in a bag and carry around or give to a child. And it's also light and easy to hold in one hand, making it suitable for reading.
Like the Fire HD 10, it doesn't have the Google Play Store or Google apps. But you're even more likely to look past that when you're spending this little on a tablet. This is an excellent choice for media consumption, browsing, or handing to your kids.
Bottom line
The number of great Android tablet options is limited (Apple has cornered the tablet market with the iPad for years) but there are a few that are worthy of recommending. The best possible Android tablet experience comes from Samsung Galaxy Tab S6 with its high-end materials, great screen, capable software, and hardware keyboard support.
There are plenty of different use cases for tablets that might influence which one you should buy. Yes, the Galaxy Tab S6 is the best overall option with the most horsepower and even the capability to replace your laptop, but you don't need all of that if you just want to stream videos and play casual games on occasion. Know your needs and don't overpay for a tablet that does more than you need.
Credits — The team that worked on this guide
Kennedy Maring is a freelancer who loves playing games, her little animal family along with her husband, and the great outdoors. Although she is a nerd through and through, she is looking to complete her cosmetology certificate in the next year.
Andrew Martonik is the Executive Editor, U.S. at Android Central. He has been a mobile enthusiast since the Windows Mobile days and covering all things Android-related with a unique perspective at AC since 2012. For suggestions and updates, you can reach him at andrew.martonik@androidcentral.com or on Twitter at @andrewmartonik.
Jerry Hildenbrand is Mobile Nation's Senior Editor and works from a Chromebook full time. Currently, he is using Google's Pixelbook but is always looking at new products and may have any Chromebook in his hands at any time. You'll find him across the Mobile Nations network and you can hit him up on Twitter if you want to say hey.
Daniel Bader is the Managing Editor of Android Central. As he's writing this, a mountain of old Android phones is about to fall on his head, but his Great Dane will protect him. He drinks way too much coffee and sleeps too little. He wonders if there's a correlation.Round up of today's best dealsREDUCED PRICE
US$729.99US$620.02VIEWSee all pricesREDUCED PRICE
US$479.99US$449.99VIEWSee all pricesWe check over 250 million products every day for the best pricesPOWERED BY
MORE ABOUT…Acer's Chromebook Spin 714 and Tab 510 offer plenty of power and a dockable USI stylu…Amazon's new Fire 7 and Fire 7 Kids are faster, leaner, and better than everLATESTGoogle Pixel 6a vs. 5a: Which should you buy?