Under construction.
By Nick Ransbottom published 16 days ago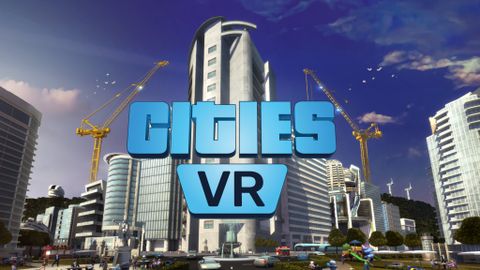 (Image: © Fast Travel Games)
OUR VERDICT
Cities: VR is a decent adaptation of Cities: Skylines that's hindered by the hardware of the Quest 2. With only a small area of land available for your city and features like terrain editing missing, the core loop feels a bit too simple and can get stale fast. Still, the basics of a good city-building sim are here, and it's an accessible entry point for players new to the genre.
FOR
Intuitive control scheme
Fun building mechanics
Great technical performance
AGAINST
No terrain editing
Small city area
Content feels lacking
Jump to:
There's a wide variety of genres available on the Quest 2, but one we don't see often is city-building games. There's yet to be a city-builder for the Quest 2 that's synonymous with the genre in the way that something like Beat Saber is with rhythm games. Cities: VR, an adaptation of Cities: Skylines, is looking to change that.
City-builders are all about building your very own concrete jungle from the ground up and running it as the mayor. You're responsible for placing power sources, creating commercial districts, and making sure your citizens have access to proper healthcare and education. Powerlines, water pipes, and waste management are all under your control. Go overboard and you'll quickly find yourself bankrupt unless you raise taxes, though that likely won't go over well with your citizens.
Although the audience is certainly niche, these types of games seem like a no-brainer for VR. What better way to feel like an omnipotent entity looming over your city than by actually getting to be one? Cities: VR does an admirable job at giving the Quest 2 a proper take on the genre, but there are some missteps that prevent it from completely hitting the mark.Sponsored Linkshttps://googleads.g.doubleclick.net/pagead/render_post_image_v1.htmlFuninVR®VR BusinessFuninVR®
WHAT'S GOOD
It's always tricky to adapt a PC game to other systems because the control scheme never translates perfectly, though that's not a problem with Cities: VR. Everything is now controlled through layers of pop-up radial menus. You can focus on building with one hand while your other hand navigates through the menus at the same time, letting you seamlessly switch between options like placing bus routes or rerouting water pipelines on the fly.RECOMMENDED VIDEOS FOR YOU…CLOSEhttps://imasdk.googleapis.com/js/core/bridge3.516.0_en.html#goog_17696362010 seconds of 57 secondsVolume 0% PLAY SOUND
| | |
| --- | --- |
| Category | |
| Title | Cities: VR |
| Developer | Fast Travel Games |
| Publisher | Fast Travel Games |
| Genre | City-building |
| Platforms | Quest 2 |
| Game size | 3.2GB |
| Players | Single-player |
Players prone to motion sickness will find Cities: VR to be a comfortable experience. It's a perfect choice for sit-down play sessions.
The switch to VR adds other unique benefits as well, like zoning your city with a paint brush to get more precise with zone layouts. A quick turn of your wrist pulls up a general overview of population growth and your city's finances, making it easy to see important information at a glance without having to dive into menus. It helps keep a breezy flow while also ensuring you stay immersed.Advertisement
Players prone to motion sickness will find Cities: VR to be a comfortable experience. It's a perfect choice for sit-down play sessions. The camera can be switched to a bird's-eye-view at the press of a button, which not only makes it easier when taking care of construction, but also keeps the view focused on a stationary point.
WHAT'S NOT GOOD
[…] it's impossible to ignore that a good chunk of what made the original PC and console game so much fun is missing here.
What limits the enjoyment of Cities: VR is the Quest 2 itself. Developer Fast Travel Games has stated that the game isn't a port of Cities: Skylines and instead an adaptation, though I'm not entirely certain there's any real distinction between the two other than Cities VR lacking major features. There's no terrain editing, for example, and your city is confined to a small and singular plot of land.
It's understandable that sacrifices had to be made in order to bring Cities to the Quest 2 but it's impossible to ignore that a good chunk of what made the original PC and console game so much fun is missing here. As a result, the core gameplay loop wears thin more quickly.
A key part of Cities: Skylines was expanding the size of your city to create a thriving metropolis; the limitations in scale means that Cities: VR can't replicate that same sense of satisfaction in watching your city grow.
After I built my city and hit some major milestones needed to unlock more buildings, I never felt compelled to stay. The gameplay area isn't drastically small but it's undeniably cramped, and not being able to create a city that I could keep expanding stopped me from getting attached to it. I frequently found myself starting a new map to start from scratch whenever I felt my current city had reached its limits rather than sticking around to see it flourish.Advertisement
It's frustrating to put so much time and effort into your city only to end up losing interest as you soon run out of things to do. Running your cities should be just as much fun as building them, but in Cities: VR, all enjoyment feels very one-sided. I felt more that I was playing in a big toy box than running a big metropolis as a mayor. Returning Cities: Skylines players likely won't be very engaged by the more simplistic gameplay.
SHOULD YOU BUY IT?
Fast Travel Games plans to support Cities: VR with post-launch content updates and I'm hoping that brings some much needed substance in the future, because the game currently feels a little too barebones. There's a ton of potential here for a great city-building sim that takes full advantage of VR. The groundwork has been laid and now a more structurally sound game needs to be built upon it.
That said, while Cities: VR can't bring the full fun of a city-builder to the Quest 2, it's not without its charms. Whereas its PC and console counterpart routinely have you dealing with economic crises and disasters that strike your city, the overall flow of Cities: VR is much more laid-back. That can be a bit of a letdown for genre enthusiasts that might want a typical city-builder, but for anyone looking to play something a little less intense or expand their game library with something different, it's a fun time.URBAN PLANNING
Cities: VR
Cities: VR is a nice attempt at bringing a full-fledged city-builder to the Quest 2, but its simplistic gameplay won't be for everyone.See at Quest Store
Freelance writer, VR/AR
Nick is a freelance journalist and games reviewer with a passion for RPGs, bad puns, and VR. When he isn't guesting on podcasts or streaming on Twitch, he's probably playing Borderlands with his husband.MORE ABOUT…Synology RT6600ax review: This tri-band Wi-Fi 6 router is phenomenalGoogle Pixel 5a review: Better battery, better price, same great phoneLATESTDyson Purifier Cool TP07 review: The best purification system gets even better