By Nicholas Sutrich published about 8 hours ago
Google unveiled its first official Pixel 7 renders at Google IO 2022, but left plenty of mysteries for us to solve.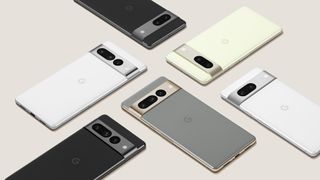 (Image credit: Google)Jump to:
Google surprised the tech world by announcing the Pixel 7 at Google I/O 2022 in May. It typically announces its new flagship phones just a few weeks before launch, around September or October. This time, it gave us a sneak peek at the phone's design and hinted at a release date, but otherwise didn't give us any other information, saving that for later.
While the Pixel 7 mirrors the Pixel 6 in its design, it also has some subtle differences. And based on leaked rumors about Google's 2022 flagship, it could make some significant strides over last year's model in specs and cameras.
Below, we've collected everything we know or suspect about the Pixel 7 and Pixel 7 Pro, as well as what we hope Google improves with its newest phones.Sponsored LinksDo You Speak English? You May Be Able To Work a USA Job From Home in PakistanUSA Work | Search Ads
PIXEL 7 RELEASE DATE AND PRICE
We know for a fact that the Pixel 7, Pixel 7 Pro, and Pixel Watch will all ship together sometime "this fall," but don't have an exact release date as of yet. The Pixel 6 and Pixel 5 both shipped on the last Thursday of October, 10/28 and 10/29. It's not a stretch to assume the Pixel 7 would arrive on Thursday, October 27, or some date around that.RECOMMENDED VIDEOS FOR YOU…CLOSEhttps://imasdk.googleapis.com/js/core/bridge3.516.0_en.html#goog_10264830020 seconds of 3 minutes, 24 secondsVolume 0% PLAY SOUND
One counter to this rumor is a Pixel 7 display leak from DSCC CEO Ross Young that Google will start Pixel 7 production a month earlier than in previous years. In theory, that could signal a late September or early October launch, which would still qualify as "fall."
But this isn't firm evidence. Google could simply be lengthening its production timeline to give itself more flexibility. And an earlier launch date puts pressure on Google to release Android 13 more quickly than it did Android 12, because the Pixel 7 will launch with it.
As for pricing, most rumors we've seen thus far suggest the Pixel 7 and 7 Pro will have similar cameras and displays as last year's model. We won't be shocked if the newer models have the same pricing as before: $599 / £599 and $899 / £849, respectively, with a $100 / £100 upcharge for extra storage. But again, Google hasn't given an official number yet, so we can only speculate.
PIXEL 7 DESIGN
All four Pixel 6 and Pixel 7 models have thick, striking camera bars that have become Google's signature look, given the Pixel 6a will also add one. While we don't have official dimensions, it appears the camera bar protrudes as much as before.
Whether you consider its return a good or bad thing will depend on your perspective. Our Pixel 6 Pro reviewer loved how it keeps the phone balanced and tilted up on a desk, while our Pixel 6 reviewer appreciated its striking look but noted there's "no denying that the bump will catch your fingers, table edges, and pocket hems."
As for what's different, the Pixel 6 and 6 Pro all had matte black bars that made the camera sensors blend in seamlessly and gave each phone — except the all-black models — a cool two-tone look. For Google's upcoming Pixels, the bars have an aluminum silver or gold finish that accentuates the sensors, so it's easy to tell apart the dual-camera Pixel 7 and triple-camera Pixel 7 Pro.
In terms of colors, the Pixel 7 ships in black, white, and light green — possibly called Charcoal, Chalk, and Sage, if it shares the same color-naming scheme as the Pixel 6a. The Pixel 7 Pro comes in white, black, and a more muted gray-green.
We don't have official sizing from Google, but the aforementioned DSCC leak claimed the Pixel 7 will shrink 0.1 inch to a 6.3-inch display, while the Pixel 7 Pro allegedly will stick to 6.7 inches. We expect the Pixel 7 to retain its flat display while the Pixel 7 Pro remains curved, though Google only showed off the phones' backs in its official renders.
PIXEL 7 SPECS