By Marc Lagace published December 05, 2021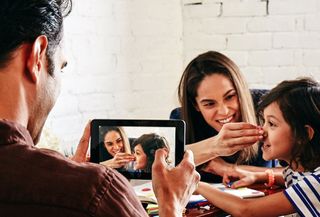 Amazon refreshed its line of Fire tablets in 2019, delivering a lighter and thinner product with Alexa built right into the OS. It's a compelling option at $50, and that means you should have some money left over to spend on accessories to keep your new device protected.BEST VALUE FOR TEMPERED GLASS
Mr Shield Tempered Glass (2-pack)
Mr Shield offers a two-pack of screen protectors for the 7-inch Fire Tablet, with each screen protector laser cut from clear ballistic glass with polished, rounded edges designed to exactly fit the dimensions of the Fire 7 screen. Not only do you get two screen protectors here, but Mr Shield backs up its products with a lifetime, no-hassle replacement warranty.$11 at AmazonPAIRS NICELY WITH A CASE
AILUN Case-friendly Screen Protector
If you only need one screen protector and don't want to spend more than $10 to get it, you need to check out AILUN's offering. It includes all the features you want in a tempered glass screen protector — it's scratch- and shatter-resistant, features an oleophobic (oil-resistant) coating to prevent smudges and fingerprints, and is also compatible for use with a case.$8 at AmazonBEST VALUE FOR FILM
Supershieldz High Definition Clear Shield (3-pack)
If you're okay with a flexible film screen protector, Supershieldz offers three PET film screen protectors for the price of one made of tempered glass. That's a great deal that will ensure you've got backups on hand if you don't get the perfect installation the first time, or if your screen protector picks up some scratches and you want to replace it.$9 at AmazonTELL THE SUN TO BEAT IT!
NuPro Anti-Glare Screen Protector (2-pack)
Screen glare can be a real drag when you're trying to enjoy your tablet in a sunny nook in your home. This two-pack of film screen protectors protect against scratches and oily fingerprints while also minimizing the glare from light sources. The kit includes two screen protectors along with a cleaning cloth and smoothing card for a bubble-free installation.$13 at AmazonSOUND PROTECTION FOR YOUR TABLET
OMOTON Tempered Screen Protector (2-pack)
A tempered glass screen protector is an excellent day-one accessory that will protect the display free from the micro-abrasions and scratches a tablet screen can pick up from daily use. OMOTON offers a two-pack of ultra-thin screen protectors with curved edges and a camera cutout to aid with installation. Perfect for protecting the kid's tablet.$13 at AmazonEASY BUBBLE-FREE INSTALLATION
SPARIN Tempered Glass Screen Protector (2-pack)
SPARIN offers a pair of tempered glass screen protectors that will go on smoothly with a bubble-free installation and protect your tablet from unsightly scratches and scuffs. Precisely cut for corner-to-corner protection along with a cutout around the camera, the screen protector is designed to absorb the shock of drops and take the brunt of any damage, so your tablet stays unharmed. Expect excellent customer service if you run into any issues.$13 at Amazon
Keep your Fire 7 tablet properly protected
Amazon's Fire devices are some of the best Android tablets around, and now that Amazon's tablet is fully integrated with Alexa, the Fire 7 can be that all-in-one hub for controlling everything that Alexa touches in your home with your voice or by touchscreen controls. Who doesn't love a capable little $50 tablet that you can putt around the house with? At that price, you can (and should) tack on an extra $13 to protect the screen from the wear and tear of daily use.
If you want to go the tempered glass route, I recommend the Mr Shield two-pack not only because it's the best price available. Mr Shield is a trusted brand that does a great job of supporting its products with lifetime replacements along with each package, including all the cleaning wipes and stickers necessary for a perfect installation.
For film screen protectors, you just can't beat the value of Supershieldz three-pack. Film screen protectors can be a bit trickier to line up during installation, so it's always nice to have spares readily available if things go sideways. Supershieldz is a reputable accessory maker that also does a great job backing up their products with quick responding customer service.RECOMMENDED VIDEOS FOR YOU…https://imasdk.googleapis.com/js/core/bridge3.516.0_en.html#goog_18075361730 seconds of 58 secondsVolume 0% PLAY SOUND
Marc Lagace was an Apps and Games Editor at Android Central between 2016 and 2020. You can reach out to him on Twitter [@spacelagace.MORE ABOUT…Best Samsung Galaxy S22 Plus cases 2022Best travel accessories for PS4 in 2022LATESTYouTube TV expands its Spanish-language content offering with two new plansSEE MORE LATESTTOPICSAMAZON FIRE TABLETAdvertisementGalaxy S23 Ultra tipped to receive a major camera upgradeSamsung is rumored to feature a 200MP camera sensor with next year's Galaxy S23 Ultra. This will likely be an upgraded version of the sensor Samsung debuted in 2021.AndroidcentralOnline Data Entry Job in USA from Pakistan. Salaries Might surprise youUSA Job from Home | Search Ads|SponsoredClick HereWhy Are Dubai Houses So Cheap? (Take A Look)Villas In Dubai | Search Ads|SponsoredA Masters Degree in UK May be More Rewarding Than You ThinkMaster Degree in UK | Search Ads|SponsoredDo You Speak English? Work a USA Job From HomeWork a USA Job | Search|SponsoredNetflix confirms a cheaper plan is in the cards, but there's a big caveatNetflix will explore a lower-cost, ad-supported tier in the next two years after a long period of sticking to a subscription-only model.AndroidcentralDo You Speak English? Work a USA job from home in PakistanWork from Home | Search Ads|SponsoredGalaxy S22 Ultra durability test shows Samsung's new flagship is a tough cookieThe Galaxy S22 Ultra has passed JerryRigEverything's durability test with flying colors.AndroidcentralDo You Speak English? You May Be Able To Work For a USA Company, Live in PakistanUSA Work | Search Ads|SponsoredSamsung is reportedly throttling the Galaxy S22 — more than 10,000 apps affectedAndroidcentralAndroid TV: What is it, and should you buy a TV or a box with it?AndroidcentralDo You Speak English? Work a USA Job From Home in PakistanUSA job from home | Search|SponsoredGoogle Home is making some changes that will make the app much more helpfulThe Google Home app is set to receive a few new updates, including changes to the UI that should make controlling and monitoring your home much easier.AndroidcentralThe Prices Of A Masters Degree in United Kingdom Might Actually Surprise YouMasters Degree in United Kingdom | Search Ads|SponsoredApple TV app gets downgraded on Android TV, won't let users buy or rent moviesAndroid TV users complain that they can no longer rent or buy movies and shows from the Apple TV app following a recent update.AndroidcentralYou Might Be Surprised to See the Prices of Studying in GermanyStudy In Germany | Search Ads|SponsoredMoss Book 2 Preview: A magical, long-overdue end to the PSVR eraThe timed PSVR exclusive has you, The Reader, once again guiding Quill on a dangerous adventureAndroidcentralAre You from Pakistan? Finding Warehouse Jobs in The USA Might Be Easier than You ThinkWarehouse Jobs in the USA | Search Ads|SponsoredThe Quest 2 is great, but I still don't use itDespite its growing library of content and hardware improvements, I still haven't found a reason to keep putting the Quest 2 on my face.AndroidcentralDo You Speak English? Work a USA Job From Home Work From Home In USA | Search Ads|SponsoredSamsung starts rolling out a fix for the Galaxy S22's throttling issueThe latest software update for Samsung's Galaxy S22 series phones brings a fix for the GOS throttling issue.AndroidcentralStarting your own company? Registering in Dubai might be a good ideaCompany Dubai | Search ads|SponsoredEpic Verizon deal: Buy a Samsung Galaxy S22 Ultra and get a free Galaxy S22 PlusFor the entire month of March, if you buy a Samsung Galaxy S22 Ultra with select Unlimited plans, Verizon will hook you up with $1,000 to spend on a second phone.AndroidcentralDo You Speak English? Work a USA job from home in Pakistan Work from Home | Search Ad|SponsoredOculus Quest Pro could get a Super Resolution upgrade with T-REx techThe upcoming Quest Pro continues to leak, this time showing some impressive ultra-high-resolution displays that finally reach the level of "human-eye resolution" in VR.AndroidcentralGoogle loses another patent battle, this time over its Nest thermostatsA Texas court finds that Google's Nest thermostats have infringed on a patent owned by smart home energy management company, EcoFactor. Google must pay $20 million as a result.Androidcentral
MOST POPULARBest Android phones for rooting and modding 2022
By Jerry Hildenbrand, Harish Jonnalagaddaabout 11 hours agoBest free PS5 games 2022
By Samuel Tolbert, Matt Shoreabout 11 hours agoBest cheap Wi-Fi 6 routers 2022
By Samuel Contreras1 day agoBest Bose headphones 2022
By Ted Kritsonis1 day agoBest Android video camera 2022
By Ted Kritsonis1 day agoBest stylus for Android phones and tablets 2022
By Namerah Saud Fatmi1 day agoOculus Quest 2 games releasing in May 2022 and beyond
By Anthony J Nash4 days agoBest Chromebooks for gaming 2022
By Andrew Myrick5 days agoBest phones for Visible 2022
By Samuel Contreras5 days agoBest workout earbuds & headphones 2022
By Ted Kritsonis5 days agoANDROID CENTRAL NEWSLETTER
Get the best of Android Central in in your inbox, every day!Contact me with news and offers from other Future brandsReceive email from us on behalf of our trusted partners or sponsorsBy submitting your information you agree to the Terms & Conditions and Privacy Policy and are aged 16 or over.AdvertisementAdvertisementMOST READ
Android Central is part of Future US Inc, an international media group and leading digital publisher. Visit our corporate site.
© Future US, Inc. Full 7th Floor, 130 West 42nd Street, New York, NY 10036.