By Andrew Myrick published December 03, 2021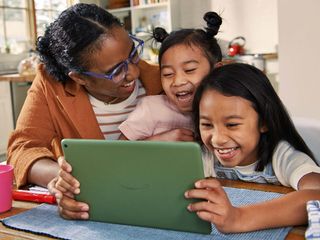 Amazon Fire Hd 10 Tablet 2021 Mom Kids (Image credit: Amazon)
Amazon's Fire HD 10 tablet is one of the best values that you can find today, along with being one of the best Amazon Fire tablets available. From having a kid-friendly experience will all of the right parental controls to allowing you to sit back and enjoy your favorite movies, a case is necessary for every situation. We've rounded up the best Amazon Fire HD 10 heavy-duty and kids cases, and there's something here for everyone.FROM THE SOURCE
Kid-Proof Case for Fire HD 10 Tablet
Amazon's Kid-Proof Case for the Fire HD 10 is the same one that comes with the Kids Edition version of this tablet. There's a built-in kickstand in the back, along with curved edges to provide a better grip. Amazon's case even comes in five different colors, giving you more options than the boring ole' colors you usually find.US$29.99at AmazonUS$29.99at AmazonUS$29.99at AmazonGET A GRIP
TSQ Rugged Protective Cover
With tablets coming in at more than 10 inches, it can be tough to handle the Fire HD 10 with just one hand. TSQ helps with that, as there's a built-in hand strap on the back, and the company even includes a shoulder strap so you can throw it over the shoulder when it's not being used. You'll find three layers of protection around the back and edges, but there's no built-in screen protector here.From $32 at AmazonPROTECT EVERYTHING
MoKo Full Body Rugged Cover
With the MoKo Full Body Rugged Cover, this is built to withstand just about everything you can possibly throw at it. In addition to the kickstand on the back, MoKo included a built-in screen protector, preventing scratches and protecting against dust getting between your tablet and the case.$33 at AmazonGET BETTER SOUND
Poetic TurtleSkin
Poetic already makes some of the most rugged phone cases, so the TurtleSkin is a no-brainer option for the best heavy-duty Amazon Fire HD 10 cases. There are four colors to choose from, and the case itself is made out of a super-shock absorbing silicone material. This material makes for a lighter experience than you would expect, and Poetic even made the speaker cutouts unique so they won't dampen the sound.$17 at AmazonIT'S LIKE MAGIC
Fintie Tuatara Magic Ring Case
With the Fintie Tuatara Magic Ring case, you are getting a whole lot of protection while being able to show off some personality. Fintie offers four different colors to go along with the built-in screen protector and dual-layered protection. On the back, you'll find a ring-stand that rotates 360-degrees and can be used to prop up your Fire HD 10 or to get a better grip on it.From $40 at AmazonLITTLE CAT EARS
SHREBORN Kid-Proof Cover
This one's for the kids and cat-lovers out there, as the SHREBORN Kid-Proof Cover has a handle complete with little cat ears on either edge. SHREBORN has built-in kickstands on either side of the back, making it easy to prop up the Fire HD 10 during movie time. With six colors to choose from and a lightweight yet durable silicone material, the SHREBORN Kid-Proof Cover is almost perfect.From $17 at AmazonSTRONG LIKE A DIAMOND
Mr. Spades Shockproof Back Cover
The problem with some cases is that there isn't enough protection for the corners. That's not a problem with the Mr. Spades Shockproof Cover, as there is additional padding to prevent accidental screen damage from a corner drop. While you won't find a built-in screen protector, this case has raised edges around the display to help prevent scratches from occurring.From $14 at AmazonFOR THE KIDS
Fintie Kiddie Series
When you think about convertible cases, you may be thinking of a folio-type case for the Fire HD 10. The Fintie Kiddie Series has a different take, as the built-in handle can fold back to prop up the tablet in a couple of different manners. Despite the sheer thickness of the case, there are still perfect cutouts for all ports, buttons, and enough space for the speaker to sound solid.From $27 at AmazonDISSIPATE THE HEAT
TIRIN Handle Stand Case
With the TIRIN Handle Stand Case, you get exactly what you expect from the name of the case itself. There's a built-in handle at the top, along with two kickstands on the back that pop out so you can prop up your Fire HD 10. In addition to the perfect cutouts for all of the ports and buttons, TIRIN designed this case to allow for heat dissipation so your tablet won't get too hot with prolonged usage.$23 at Amazon
What about cases for the 2021 Fire HD 10?
It's only been two years, but Amazon has finally upgraded its Fire HD lineup with some upgraded hardware. But this also means that if you want to grab the company's latest tablet, you'll need to grab a new and protective case to go with it. There aren't many options yet, but we'll be sure to update this list as more cases become available. Here's what you can buy right now to protect your 2021 Fire HD 10.FOR THE KIDS
Amazon Kid-Proof Case for Fire HD 10 tablet (2021)
If you end up deciding to put the new Amazon Fire HD 10 in the hands of your little ones, you'll want to make sure you get the right case. Amazon is bringing its Kid-Proof Case to the 2021 Fire HD 10, providing enough protection to handle all of the accidental drops that may occur, along with sporting a built-in adjustable stand.$35 at AmazonCOVERED EVERYWHERE
Fintie Tuatara Unibody Hybrid Cover
It doesn't matter what device you end up getting. Fintie usually has a pretty awesome case available. That's what we have with the Fintie Tuatara, as this ultra-rugged case features a built-in screen protector, an integrated kickstand, and dual-layered protection with a TPU inner shell and polycarbonate outer shell.$33 at AmazonHONEYCOMB PROTECTION
Fintie Honeycomb Silicone Case
Silicone cases may not look all that protective, but they do a great job at preventing any drop damage from occurring. There are five colors to choose from, and the design is such that it features ergonomic side grips to help keep it in your hands and off the ground.$18 at Amazon
Grab the best heavy-duty Amazon Fire HD 10 cases you can find
When it comes to finding the best Amazon Fire HD 10 cases, there are more choices than you can shake a stick at, and that list only grows when looking for the best heavy duty cases. But Amazon's own Kid-Proof Case gives you just about all the protection your little one needs to keep the tablet rolling. With easy access to the buttons and ports, an ergonomic design around the edges, and a built-in kickstand, this is the all-in-one package for your Fire HD 10.
If you're looking for a great and rugged case for the Fire HD 10, but have more of a focus on using the tablet with one hand, then the TSQ Rugged Protective Cover will do the job quite nicely. There's a built-in hand strap on the back, and TSQ includes a detachable shoulder strap. If you do want some color, there are five options to choose from, helping to make this an excellent pick for anyone.RECOMMENDED VIDEOS FOR YOU…https://imasdk.googleapis.com/js/core/bridge3.516.0_en.html#goog_14873041700 seconds of 9 minutes, 14 secondsVolume 0% PLAY SOUND