By Jeramy Johnson , Olivia Lipski published December 13, 2021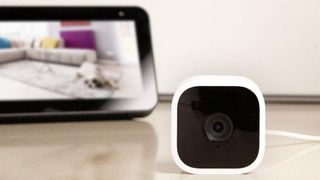 Blink Mini Lifestyle (Image credit: Blink)
So you've decided to pick up a shiny new Amazon Fire tablet. Maybe it's the 7-incher, the latest 10-inch HD version, or even one of the great Kids Editions. Whichever one you grabbed, congratulations! You've made a smart decision because while these aren't the most powerful tablets you can find, they're easily some of the best Android tablets for your money. Now that it's time to accessorize, here are some of the best Amazon Fire Tablet accessories you can buy right now.PUT A CASE ON IT — GROWN-UP EDITION
Amazon Fire HD 10 Tablet Cover
Amazon's first-party cases are well-made and well-priced. They feature a slim fabric cover that can fold over into a stand to hold up your tablet in portrait or landscape mode. The cover can also wake the device with its magnetic closures, and the microfiber interior protects your Fire's screen from scratches. Versions of this case are also available for the Fire 7, HD 7, HD8, and previous HD 10 models, and all are offered in multiple colors.PUT A CASE ON IT — KIDS EDITION
Kid-Proof Case for Fire 7 Tablet
Yes, we know that you can get a Kids Edition Fire Tablet in the 7″, 8″, or 10″ varieties — but what if you don't need or want a second Fire Tablet but still want to kid-proof your device? There are plenty of great options from third-party vendors, but we are partial to this one from Amazon. It's perfect for taking any beating your little one can dish out and is convenient to remove for when the adults want their tablet back. Versions of this case are also available for the Fire HD 8 and HD 10 as well. The case comes in five fun colors: black, blue, pink, punch red, and purple.PROTECT THAT SCREEN
NuPro Clear Screen Protector
There's nothing more annoying than watching a movie with lots of shadows and dark scenes on your tablet and then seeing the glare coming off of a giant scratch in the screen – yuck! With a screen protector like this, you won't have to deal with headaches like that. Screen protectors protect against scratches, smudges, and dirt and are easy to install — a no-brainer to protect your tablet investment.ADD MORE STORAGE
SanDisk Ultra Micro SD Card
While Amazon Fire tablets are a fantastic value, they achieve low prices by skimping a bit on storage. However, they are one of the few tablets that allow you to add your own third-party storage in the form of a microSD card. With most of the current Fire tablets starting at 16 GB of internal storage, you can easily double, triple, or even add up to eight times as much storage with one of these SanDisk Micro SD cards. That's perfect for loading up your tablet with movies and music for a long trip.CHARGE IT ANYWHERE
Kindle PowerFast International Charging Kit
Take this kit with you on your next overseas trip, and don't worry about charging your Fire tablets on the go. It comes with a five-foot micro-USB to USB charging cable and easy twist-off adapters for use in North America, the UK, Continental Europe, Australia, New Zealand, Japan, and China. The adapters will also automatically adjust voltage and frequency, so your Fire doesn't end up… well, on fire.SEE WHO'S COMING
Blink Mini – Compact indoor plug-in smart security camera
With the Blink Mini, otherwise recognized as the best value Blink camera, you can use your Fire tablet to ask Alexa to show you the front door, your pet, or whatever you have this handy device facing. The camera will send notifications to your device when it senses activity. It has two-way audio to allow you to communicate with whoever/whatever is on the other end of the lens. You can store footage locally or through a Blink Subscription.THREE IN ONE
Wireless Charging Dock
This accessory serves multiple purposes. It not only acts as a charging dock and display stand, but it also removes the need for a separate device like an alarm clock, Echo Spot, or Echo Show. It essentially turns your Fire HD 8 Plus into an Echo Show, while allowing you to remove the device to use in tablet mode whenever you wish. As a result, it's an incredibly convenient accessory to consider.EASY SMART DEVICE
Amazon Smart Plug
The Amazon Smart Plug is a great way to ease into the smart home lifestyle, and it automatically works with any Alexa-enabled device like your Fire tablet. Simply plug one of these into a wall socket and ask Alexa to discover devices. Once Alexa finds the plug, you can name it, add it to a routine, or ask Alexa to "turn on the lamp" you plugged into it.PEACE OF MIND
2-Year Accident Protection Plan
Even the best of us have dropped a phone or tablet at least once. Luckily Amazon offers several affordable extended warranties for all of their devices, including the Fire tablet series. This two-year plan is delivered to your email within 24 hours of purchase and allows you to receive a replacement device two-three days after you make a valid claim. There are no deductibles or shipping fees, and you can make up to three claims during the warranty term. You can cancel at any time, and the warranty is fully transferable.
Accessorizing — what separates us from the animals
Amazon Fire tablets are inexpensive, durable, and incredibly useful personal technology devices, and they're also some of the cheapest Android tablets that you can buy. Coming in various sizes, colors, and capacities, and with built-in and hands-free Alexa access, they delight their users through entertainment and convenience.
Once you've set up your Fire tablet, you have virtually unlimited access to movies, TV shows, apps, music, books, and all the online shopping Amazon can throw at you. You also have access to great content from Hulu, Netflix, HBO, and even Apple (Music)! And if you have kids, these are still the only tablets we'd recommend.Advertisement
Our top accessory recommendation for Fire tablets is the Amazon Fire Tablet Cover. Not only do they look great, but they do a great job of providing protection and utility for your Fire tablet. Nevertheless, there is no shortage of accessories for whichever Fire tablet you choose. For example, the colorful Kid-Proof Case for Fire 7 Tablets is great because it will protect your precious tablet from the inevitable drops and bumps brought on by the little ones. The Blink Mini camera, on the other hand, is a futuristic and affordable way to protect your home, which you can check on at any time through your Fire tablet.RECOMMENDED VIDEOS FOR YOU…Android 12 Review: Top features + what's new in Android for 2022!https://imasdk.googleapis.com/js/core/bridge3.516.0_en.html#goog_13330652380 seconds of 10 minutes, 0 secondsVolume 90%00:0000:0310:00