By Chris Wedel , Keegan Prosser published January 15, 2022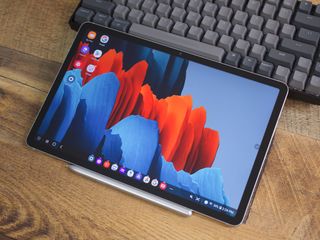 Samsung Galaxy Tab S7 (Image credit: Joe Maring / Android Central)
Ever since Samsung introduced the S Pen with its lineup of Note phones, the accessory has become a favorite for those who like to handwrite their digital notes. But the S Pen is about more than just writing letters; it gives a finer point for precise selection of items on the screen, and in some instances, it can be used to access device shortcuts. Samsung makes some of the best Android tablets, and these are the Galaxy tablets that support the S pen.CREAM OF THE CROP
Samsung Galaxy Tab S7 Wi-Fi
US$580at AmazonUS$729.99at Microsoft USUS$735at Amazon
The Galaxy Tab S7 brings excellent hardware and a fantastic software experience to fans of Android tablets. The S Pen performs wonderfully thanks to the 120Hz display, so all of your doodles flow effortlessly from the pen tip.THIN IS IN
Samsung Galaxy Tab S6 Lite with S Pen
US$337.72at AmazonUS$349.17at AmazonUS$349.99at Amazon
If you want a tablet with a premium build, thin design, and typical fantastic Samsung display but don't want to break the bank, then the Galaxy Tab S6 Lite will fit the bill. Plus, since the S Pen is included, you'll be scribbling away in no time.WRITING ON A BUDGET
Samsung Galaxy Tab A 8.0 32 GB WiFi (2019)
US$133.98at AmazonUS$157at Amazon
The Samsung Galaxy Tab A 8.0 offers a great writing experience for those on a tight budget. But just because it's not top of the line doesn't mean it's bad. You'll get a bright, vivid 8-inch HD display, great battery life, and expandable storage to keep all of your documents stored on.RUGGED AND READY
Samsung Galaxy Tab Active Pro
Not only does the Galaxy Tab Active Pro support the S Pen, but it comes with one and has a space to store the pen inside of the rugged enclosure. While this tablet is durable with a MIL-STD-810G rating, it also has great performance and a visible screen in all conditions.TOP PERFORMER
Samsung Galaxy Tab S7+ 128 GB WiFI
Check AmazonFrom $700 at Amazon
If you need a tablet that can handle any task you need, then the Galaxy Tab S7+ is your kind of tablet. It is packed with the most powerful processor, a phenomenal display, and makes the best use of all that the S Pen offers.GO BIG
Galaxy Tab A 10.1 (2019) – Black
€329.99at Adorama WW€329.99at Adorama WWCheck Amazon
The Galaxy Tab A 10.1 brings a big screen and big performance, thanks to the Samsung Exynos 7904A processor, at an affordable price. The 128GB of onboard storage, along with the ability to expand it with a microSD card, means that you'll never run out of room for your S Pen creations.RIGHT IN THE MIDDLE
Samsung Galaxy Tab S7 FE 12.4″
US$410at AmazonUS$669.99at AT&T€549at Conrad Electronic
Sitting squarely in between the Galaxy Tab S7 and S7+, the Galaxy Tab S7 FE offers the excellent performance and refined design that's expected from the lineup. Its large 10,090mAh battery will give you hours and hours of S Pen productivity time.COMFORTABLY DURABLE
Samsung Galaxy Tab Active3 8″ Multi Purpose Tablet
US$389.99at AmazonUS$489.99at AmazonUS$612.99at Amazon
If you need a tablet that offers solid performance, can take a beating, and still be comfortable to hold, then the 8-inch Samsung Galaxy Tab Active3 will get the job done. Like the Galaxy Tab Active Pro, the S Pen is included and has a handy slot to keep the pen with you when you need it.A LOT LEFT IN THE TANK
Samsung Galaxy Tab S6 – 10.5″
US$647.50at AmazonUS$698.98at AmazonUS$990at Amazon
Samsung's flagship tablet from 2019 is still a solid pick in 2021. The Galaxy Tab S6 works great as a 2-in-1 device with the included keyboard case. There's not much to miss with this productivity setup with a powerful processor, great battery life, and a fantastic display.DURABILITY ON A BUDGET
Samsung Galaxy Tab Active2 8″ Ruggedized Tablet Wi-Fi
When it comes to getting a good-performing tablet that has MIL-STD-810G durability, a display that works when wet, and S Pen support without breaking the bank, it's a very short list — and the Galaxy Tab Active2 is at the top of it.
Putting S Pen to screen
While it makes a lot of great tablets, only the best Samsung tablets support the popular S Pen. Samsung has perfected its stylus technology over the years, and using it on the large screen of a tablet makes perfect sense — and the Galaxy Tab S7 is the best of the bunch.
The Galaxy Tab S7 combines a fantastic design and the performance and software to make excellent use of the S Pen's features. From creating your next artistic masterpiece to jotting down a list of to-dos for the next day, the Galaxy Tab S7 does the job wonderfully. You will want to be sure to pick up a great case for your tablet to keep your investment safe.
However, if you need a tablet that can do the basics well, with S Pen support, of course, and not go over budget, then you'll do great with the Samsung Galaxy Tab A 8.0. You'll get commendable performance for your daily tasks in a manageable size.
Keegan Prosser is a freelance contributor based in the PNW. When she's not writing about her favorite streaming apps and devices for Android Central, she's listening to a true-crime podcast, creating the perfect playlist for her next road trip, and trying to figure out which fitness tracker she should try next. You can follow her on Twitter @keeganprosser.MORE ABOUT…Every color PS5 DualSense controller you can buy today 2022Motorola Razr 3 leak teases a Galaxy Z Flip 3-inspired design and camera upgradeLATESTBest cheap Wi-Fi 6 routers 2022SEE MORE LATESTTOPICSSAMSUNG GALAXY TAB STABLETSSAMSUNG GALAXY TAB AI bought a Samsung Galaxy Watch 4 again — and I'm still not impressed