By Michael L Hicks last updated March 29, 2022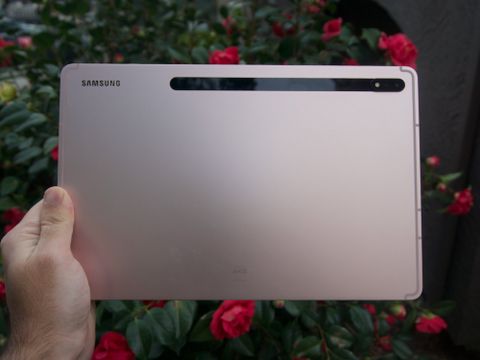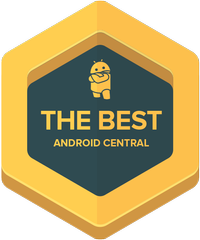 (Image: © Michael Hicks / Android Central)
OUR VERDICT
Bottom line: The Galaxy Tab S8+ emulates the Galaxy Tab S7+ in its design while adding scratch-proof materials, faster connectivity with optional 5G, improved S Pen responsiveness, a vastly improved selfie camera, and game-changing software upgrades for using several apps at once. While somewhat tricky to hold, it's much lighter than the Tab S8 Ultra and iPad Pro while offering plenty of power. Just be prepared to buy a fast charger and keyboard cover on top of the high price.
FOR
Thin, lightweight, scratch-resistant design
Latest SoC with 8GB of RAM
S Pen is better than ever
One UI 4 is a game-changer
Reliably long battery life
Four OS updates / security through 2027
AGAINST
Expensive
No charger or cover in box
Not compact enough for some people
Most Android apps are still unoptimized
Jump to:
US$1,099.99at AT&T
When we reviewed the Galaxy Tab S7+ in mid-2020, it arrived on the heels of years of Android tablet neglect by Google and most app developers. A perfect display, svelte design, and fast performance couldn't offset the fact that most Android apps on tablets simply spread out like gas in an empty box, not doing anything with the extra space to make using a Tab better than using a phone.
With the Galaxy Tab S8+, Samsung brought back the last model's best features while improving on its weak points. Retaining the same design, display, and battery as before, the Tab S8+ added an upgraded processor, more base RAM, a wider selfie camera, and faster Wi-Fi connectivity. More importantly, Samsung took matters into its own hands with One UI 4, using the same software tools from its foldable phones to take better advantage of the 12.4 inches of display real estate.
For anyone interested in the Samsung Galaxy Tab S8+, the question isn't whether or not it's a fantastic device; the only competition it has for the title of best Android tablet is the Tab S8 and Tab S8 Ultra. The real question is whether you should justify the high price or set your sights lower.Sponsored LinksFind cheap used cars from America (search now)American cars | Search adsSearch Now
SAMSUNG GALAXY TAB S8+: PRICE AND AVAILABILITY
The Samsung Galaxy Tab S8+ costs $900 for the standard 8GB/128GB variant and comes in three colors: Graphite, Silver, or Pink Gold. The 8GB/256GB variant is priced at $980, while the 5G-enabled Tab S8+ costs $1,100 and is restricted to 128GB — though you can augment your storage with the 1TB microSD card slot. Currently, Samsung only has a Verizon 5G tablet available, but it promises to release T-Mobile and AT&T variants soon.RECOMMENDED VIDEOS FOR YOU…CLOSEhttps://imasdk.googleapis.com/js/core/bridge3.513.0_en.html#goog_4453277990 seconds of 1 minute, 3 secondsVolume 0% PLAY SOUND
Samsung announced the Galaxy Tab S8 series on February 9 at its Unpacked event alongside the Galaxy Tab S8 and S8 Ultra, which cost $200 less and more, respectively. All three tablets shipped on February 25.
SAMSUNG GALAXY TAB S8+: WHAT YOU'LL LOVE
Advertisementhttps://2227175d1d2edb1757b48249c9e48613.safeframe.googlesyndication.com/safeframe/1-0-38/html/container.html
Before we delve into the new improvements with Samsung's latest Plus-sized tablet, we have to retread on the areas where Samsung stuck to the same winning formula as the Tab S7+. While not much has changed with the display and design since 2020, I'm glad Samsung didn't mess with a good thing.
Category
Galaxy Tab S8 Plus
Chipset
Snapdragon 8 Gen 1
Display
12.4-inch Super AMOLED (120Hz)
2800 x 1752
500 nits
Memory
8GB
Storage
128GB or 256GB
Rear Camera
13MP AF + 6MP UW + Flash
Front Camera
12MP UW
Battery
10,090mAh Li-Ion
45W Fast Charging
Audio
Quad AKG Speakers + Dolby Atmos
Authentication
Face Unlock, on-display fingerprint scanner
Connectivity
WiFi 6E (6GHz)
Bluetooth 5.2
USB-C 3.2
5G (Optional)
S Pen
✔️, 2.8ms latency
microSD card slot
✔️ (up to 1TB)
3.5mm headphone jack
🚫
Dimensions
11.22″ x 7.28″ x 0.22″
Weight
1.27 lb
Colors
Graphite, Silver, Pink Gold
The 12.4-inch, 2800×1752 resolution display with 120Hz refresh rate and 240Hz touch sampling remains the star of the show. Scrolling feels as smooth as silk — or less metaphorically, as smooth as you'd see on a much smaller smartphone touchscreen.
Compared to the 12.4-inch Galaxy Tab S7 FE I reviewed last year, the pixel density doesn't change much, but the LCD-to-AMOLED upgrade makes a world of difference for color fidelity. Particularly with HDR content, you'll enjoy rich colors and deeper blacks along with a smoother refresh rate. Matched up against cheaper, large-sized tablets, you'll notice far less blurring around small text or icons where the limited pixels obviously can't keep up with the stretched-out interface.Advertisement
Not much has changed in terms of your basic Android tablet UI experience. Samsung and Google have the resources and inclination to optimize their apps for larger spaces. Otherwise, most popular apps either stretch out awkwardly over the 12.4-inches or sit as a column in the center with space on both sides. That's not great, obviously. But thanks to One UI 4, you can either slot apps next to one another in a 3-box configuration or place an app as a tiny pop-up above a full-screen app.Image 1 of 3
Android apps look terrible spread out across a tablet but perfectly natural in 4-6-inch chunks side-by-side with one another.
You could do this with Samsung DeX before, but many apps didn't resize properly. Switching between DeX and One UI was an annoying step, and it only really worked well on a desk with a Bluetooth mouse. Now that One UI 4 does this natively, it's as simple as grabbing the S Pen, swiping the small gray line out to reveal the pinned taskbar on the top-right, then drag-and-drop your favorite apps into whatever portion of the display you want.
The Galaxy Tab S7 and S7+ received One UI 4 in January, so you can take full advantage of these tools without buying a new tablet. But Samsung's last-gen Tabs came with 6GB of base RAM and the Snapdragon 865 — plenty of memory and processing power for a single app, but maybe not enough for three at once in 2022. Now you have the Snapdragon 8 Gen 1 and 8GB from jump; I've done my best to put the Tab S8+ through its paces and run demanding apps side-by-side, and so far, I haven't overtaxed the memory at all.
One UI 4 is just the start of Samsung's multitasking UI plans.
It's not a perfect system by any means. Opening a new app minimizes and saves your current app configuration in the taskbar, but I had moments when they decoupled for no reason, so I had to set things up all over again. I almost wish One UI defaulted to opening pop-up windows of apps when you're multitasking, or at least gave you a choice when you tap on the taskbar icon. Still, Samsung has promised to bring Android 12L updates later this year. Given Samsung has promised four OS updates through Android 16 and security updates through 2027, you can rest assured it'll have a long shelf life and that these One UI improvements are just the start.Advertisement
Source: Michael Hicks / Android Central
Design-wise, the Galaxy Tab S8+ barely changed from the Tab S7+. It weighs and measures the same down to the millimeter and gram. Its 16:10 aspect ratio has some drawbacks compared to the 4:3 iPad Pro design, but it's the perfect layout for streaming your favorite films and shows. Also, when it comes to using it in portrait mode, the narrower width makes it easier to grip firmly along the edge with the S Pen in the other hand. Whereas the wider iPad Pro (or the Tab S8+ in landscape) requires what I call the waiter/tray method of holding it, which is more prone to drops.
You get the same quad AKG-tuned speakers as before, so the sound quality stays rich and clear no matter how you orient it or how high you pump the volume. As Hayato said about the S7+ in his review, it's genuinely impressive how Samsung brought superb audio quality to such a thin device.
Where Samsung improved is with its S Pen support. The Galaxy Tab S7+ has a 9ms latency, crushing the S7 and its 26ms latency. Now, the Tab S8+ merely has a 2.8ms delay — the same as the Galaxy S22 Ultra despite the much larger display, and so short that your brain really can't perceive it. While taking notes, you can freely write without the distraction of your strokes taking too long to materialize.